Ten pi-fect projects for your new Raspberry Pi
Posted by praveen kumar at 20:06
The arrival of the Raspberry Pi (RPi) prompted a similar sort of question: given an (almost) disposable PC with late-1990s power, what would you do with it? Other than, of course, to use it as a cheap media centre.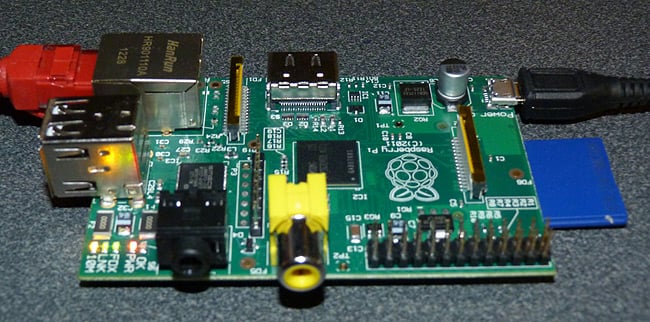 Yes, yes, we all know it supposed purpose is to teach kids to code, but I mean, come on, where's the fun in that? If the target audience are anything like my two iPod junkies, then just learning to writing code is only going to interest the tiniest minority. Thankfully, it turns out that there's quite a lot you can do with your RPi. Which is important, because your average Linux head isn't going to persuade ten year olds to start pootling around with Scratch. But if a £29 PC is merely the gateway to doing other more exciting STUFF, then they may have to learn some coding to get it all to work.
In their defence, the average(?) Linux head is inured in a culture of solving common problems, talking about them in forums, and posting fairly detailed workthroughs. What's more interesting is seeing the crossover between Linux heads, open source electronicistas and a wide range of niche hobbyists. RPi is seeing action with groups from Apiarists (do you know the current state of your hive?) to Xenophiles (SETI, anyone?). Yachtsmen and Zumba DJs take note.
There's a large amount of overlap between the elements within projects, so starting with a web server will get you on the road to a weather station and so on. But let's not give the game away just yet. Here then, is a collection of useful and perhaps fun RPi projects which range in difficulty from plugging in some wire and downloading a bit of code, to firing up a soldering iron and whipping out the carpentry set.
Well, what are you waiting for?
Coffee table arcade game

Nostalgia alert! When I was 12, my best friend's grandfather owned a pub. In those pre-Sunday Licensing days, we could sneak in early, he would stick some free credits on for us, and three of us would have a quick Space Invaders tournament. How technology has moved on.
Difficulty Level (1-10)
4 - some fairly basic carpentry and wee bit of soldering
Extra cost
Under £100
Shopping List
LCD display, joystick, buttons, prototyping board, resistors, table
Approach
Mount an LCD screen into an old table, hook it up to your RPi. Get hold of an off-the-shelf arcade joystick and some arcade buttons, and with the judicious use some resistors as voltage dividers to tie them to the GPIO inputs on the RPi. Install (or compile) a copy of advanced MAME, and some choice games.
Take it further
Hook up two sets of controls for two-player games, add some sound with an amp and some speakers.
Online Help
This is a popular meme, so there are lots of
workthroughs
and examples out there, including some
IKEA
modders
. If you're not sure you want all the fuss,
these chaps
have some more expensive options available.
LAMP server

Yup, you can easily build a web server on an RPi. Why would you want to? As a first project, it's good practice, and novices will learn a heap of stuff: downloading and compiling source, Linux command line tools, configuration etc. For the rest, well, for a headless web-app server, an RPi may be all you need. Or use it as a test server, or for hosting a blog. It's also forms the basis for some other types of projects (see below), where having a web page that can display data from the RPi's GPIO inputs is half the battle.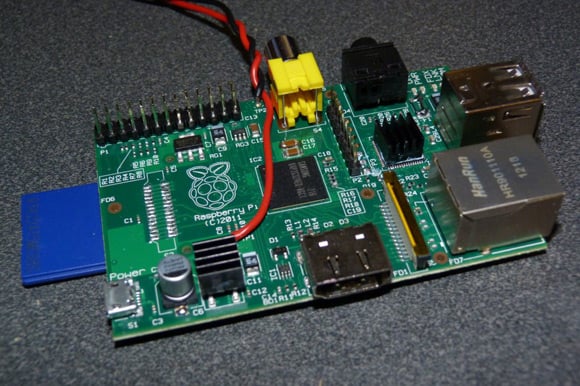 Difficulty Level (1-10)
3 - but varies: bog-standard compiling and HTML coding, plus MySQL and PHP if you want
Extra cost
Zero
Shopping List
None (although if you're needing an excuse for a decent router upgrade...)
Approach
There are precompiled SD card images out there for various flavours of RPi Linux, but half the fun will be getting it running from scratch.
Take it further
See some of the other projects below. But how about adding wireless and solar-power?
Online Help
Oh
,
yes
.
Oodles
. But a novice's best bet is probably to stick to the forums initially.
* The best answer, IMHO, was the one which pointed out that those pesky laws of thermodynamics implied what you really had was a very large bomb... [See Pickover, C. (1991) An informal survey on the scientific and social impact of a soda can-sized super-super computer. Computers in Physics, May/June 5(3) 290-301]
Pi/Kindle Chimera

You're locked in the server room; you could email for help, but there's no terminal to hand. WWMD*? Yup, time to whip up a portable terminal using your jailbroken Kindle and trusty RPi. Actually, when you think about it, it's not so bonkers. For terminal work, e-paper is just about usable. And it'd make a change from paperclip lockpicks.
Difficulty Level (1-10)
3 - You can do it in software, but, DISCLAIMER that's a jailbroken Kindle, which can be easily bricked. So, yes, I will be building one, but only when I can get to my mother-in-law's, and not using mine...
Extra cost
£60
Shopping List
Kindle, USB keyboard, Micro USB-to-USB cables
Approach
Install a terminal emulator on the Kindle, and USBNetwork. Cable RPi to the Kindle, add a keyboard, and then login to the RPi from the Kindle. Then (the trick) use a terminal multiplexer to share the RPi's session from the Kindle. Voila, external keyboard works, and Kindle = display.
Take it further
At the risk of spoiling the next idea, stick it in a case and run it off a battery.
Online Help
Damaru offers a
workthrough
for the aptly named KindleBerry Pi
Pi Netbook

Here's your chance to re-create the Osborne 1. Only in colour. With networking. And no chance of shoulder dislocation. Thanks to the recent explosion in hobbyist electronics - Adafruit and Arduino, I'm looking at you! - the availability of small off-the-shelf HDMI capable LCDs with driver boards has blossomed. There's a variety to choose from 1.5in up, so a Nintendo-scale 'nanobook' isn't totally out of the question.
Difficulty Level (1-10)
7 - OK, you'll definitely need to break out the soldering iron for this
Extra cost
You can easily manage it for under £150
Shopping List
Small flight case or (!) cigar box, an RPi breakout/expansion board, assorted panel mount connectors for peripheral/external connections, keyboard, batteries, LCD
Approach
Really this is about building the peripherals needed for an RPi into your choice of case.
Take it further
How about LiPo rechargeable batteries? Or adding a wireless support and/or GPS. You know you want to.
Online Help
Don't limit yourself to just RPi sources: there are lots of easily adapted self-build laptop workthroughs. There are plenty of RPi-specific examples of this in the wild. For example, the RPi Challenge runner can be
found here
.
*What would MacGyver do?
Info kiosk info projector

Here's one that makes good use of the RPi's other special characteristics: it's really small and physically lightweight. So hanging it on the ceiling next to a projector isn't going to cause the office Stealth & Safety crew too many sleepless nights. And yes, it's cheaper than a dedicated PC. Thanks to some decent LCD/LED projectors out there, for a number of situations it's much cheaper than, say, a 64in display screen.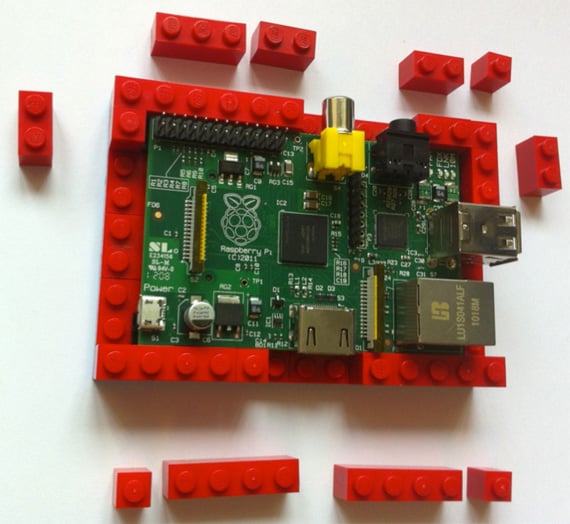 Difficulty Level (1-10)
2 - Easy peasy: you're just hooking up an RPi to a projector
Extra cost
Under £500
Shopping List
Low-cost LCD/LED projector, RPi case, appropriate ironmongery for hanging projector and sticking a network point on the ceiling
Approach
The trick here is to make sure that your content will display on a hard reboot of the RPi. Setup the RPi to open a browser after booting, and make your site the homepage. Use HTTP refreshes for automatic updates.
Take it further
Add a wireless connection to the RPi to save on the cabling.
Online Help
Forums are your friend, especially when selecting a suitable projector: something that won't overheat and has a long MTBF for the lamp or equivalent.
Weather station

The RPi is ideally suited to the role of weather station: small, low cost and low power. The RPi makes a great data-logger, and you don't even need a network connection, just a large enough SD card. There tools and Python scripts out there to graph your data, or present it via a web page. And once it's up and running, you can contribute your data to shared sites like the WeatherUnderground.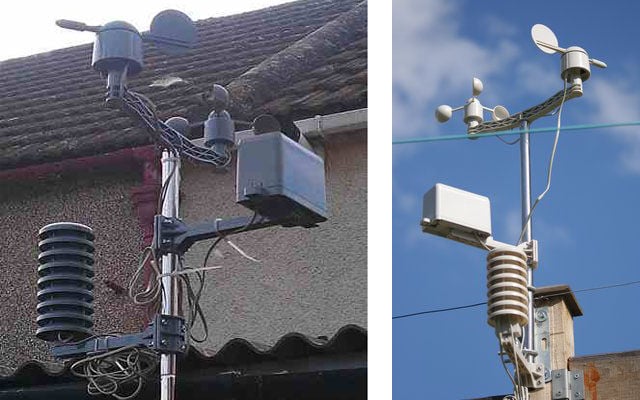 Sources: Peter Mount (left) and Jim Easterbrook
Difficulty Level (1-10)
3-7 - ie. pre-built to homemade
Extra cost
Dependent on your approach
Shopping List
Dependent on your approach
Approach
GPIOs make it easy to hook it up to external sensors directly, or there are weather station boards to available to build. You can avoid a soldering iron altogether too: kits from Maplin or RS (for less than £60) that include all the basic pre-built sensors, or open source tools like Weewx let you talk to professional USB-compatible weather stations.
Take it further
A popular addition to your weather station: add a cheap web cam. Or how about a Wi-Fi or XBee connection, and solar power?
Online Help
If you thought the IKEA modders were keen, wait until you meet the
Weather
Station
folk
.